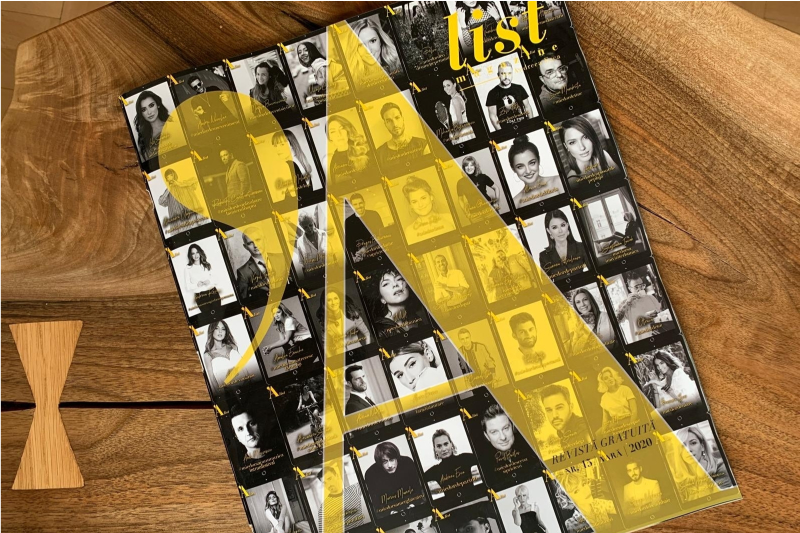 Din culisele numărului de vară 2020 A LIST MAGAZINE… pregătiți-vă să vedeți un shooting realizat în întregime pe FaceTime cu Fabuloasa Diana Enciu, să admirați talentele de regizori, stiliști și fotografi ale copiilor vedetelor (Antonia, Dana Rogoz, Amalia Enache, Sore, Anna Lesko și Adela Popescu), dar și să citiți o serie de mărturii interesante despre cum au trecut peste perioada pandemiei scriitorii, artiștii, chef-ii, bloggerii sau designerii români.
Plusăm cu o serie de recomandări de vacanță chiar la noi în România (destinații selectate de redacția A List Magazine), cu o lecție despre meditație predată de Andreea Raicu, cu interviuri cu 3 femei care conduc niște afaceri cu cărți tare tare simpatice, o mulțime de pagini de shopping de beauty & fashion, dar și cu recomandări de cărți și filme bune. Enjoy!
Nu uitați: revista este GRATUITĂ și poate fi găsită în…
BUCUREȘTI
• restaurantele / cafenelele din București: Ana Baking Co., Arc Bakery, Animaletto, Ad Hoc, Arome, Aperto, Bob Coffee Lab, BONE, Ceainăria Infinitea, Chef's Experience, CAJU by Joseph Hadad, Dianei 4, Da Beef, E3 Floreasca, Ethos House, Fior di Latte, Four Season, Gargantua Kiseleff, Gargantua Icoanei, Grano, Gastro Lab restaurant, Il Villagio, Il Locale, KAIAMO restaurant, La Cantine de Nicolai, La Mahala, La Finca Alioli, Le Bab, NOUA, Nicolai, Nuba Cafe Dorobanți, Poesia, Rue du Pain, Starbucks America House, Starbucks Băneasa, Suento, Shift Pub, Sardin, Sweetology, Simbio, Switch Eat, Talent, Tartelicious Tart, The Urbanist, T Zero Coffee, Yoshi, White Horse, Van Fruct
• saloanele / clinicile din București: Tribute Salon by George Soare, Noblezza, Beauty District Nordului, Beauty District Stejarii, Beauty District Victoriei, salon Manifest, saloane Yvonne, salon Dare, saloanele Gett's (Mariott, Park Lake, Radisson Blu); saloanele Evidence (Băneasa, Feeria, Unirea), Salon Boudoir, The Bar, Bogdan Mirică Salon, Patio Studio Băneasa, Jovsky Studio, Centro Donna Spa, The Lash Lounge, Afrodita Spa, Still Art (Carrefour Orhideea), Patio Studio (Carrfour Feeria), Hair Wellness by Elizabeth, salon AcadOro, clinica Trident, Clinica Proestetica Monza, SkinClinic, clinica Elos, NBG Studio, Slim Art, AVRA Aesthetic Institute, Noblezza, Clinica Leventer
• studiouri de Pilates / săli sport în București: Movement Studio, Attitude Pilates, World Class Le Club, World Class W Charles de Gaulle
• hoteluri București: Hilton, Hotel Epoque, Mariott Grand Hotel, Ramada, Crowne Plaza, Hotel Caro, Hotel Sheraton, Hotel Intercontinental
• magazine București: Malvensky Store, Stefanel, Furla, magazinele Nissa (Cluj-Napoza, Timișoara, Iași, Brașov, Constanța, Craiova, Pitești, București), showroom Parlor, Natural Paris, magazin Obsentum, Nespresso, magazinul Teilor Băneasa, Monarh Concept, Rosa Mundi Perfumery (Agora Floreasca),  magazinele CCC Shoes, Seneca AntiCafe, Asteroidul B612, librăriile DIVERTA, magazinele LIDL
• Stejarii Club, Stejarii Rezidențial, Regina Maria, Aeroportul Otopeni Business Lounge, Autoklass Center, QREATOR, centrul de închirieri biciclete IVelo
CLUJ-NAPOCA
TIFF –  31 iulie- 9 august
Magazinele LIDL
Hoteluri Cluj:  UBA
OLIMP – Novum By the Sea
Puteți răsfoi online: NR 1 – A LIST MAGAZINE   / NR 2 ALIST MAGAZINE / NR 3 – A LIST MAGAZINE/ NR 4 – A LIST MAGAZINE  / NR 5 – A LIST MAGAZINE , NR6 A LIST MAGAZINE , NR 7 A LIST MAGAZINE NR.8 A LIST MAGAZINE, NR.9 ALIST MAGAZINE, NR. 10 A LIST MAGAZINE, NR. 11 A LIST MAGAZINE, Nr. 12 A LIST MAGAZINE. A LIST MAGAZINE NR. 13.