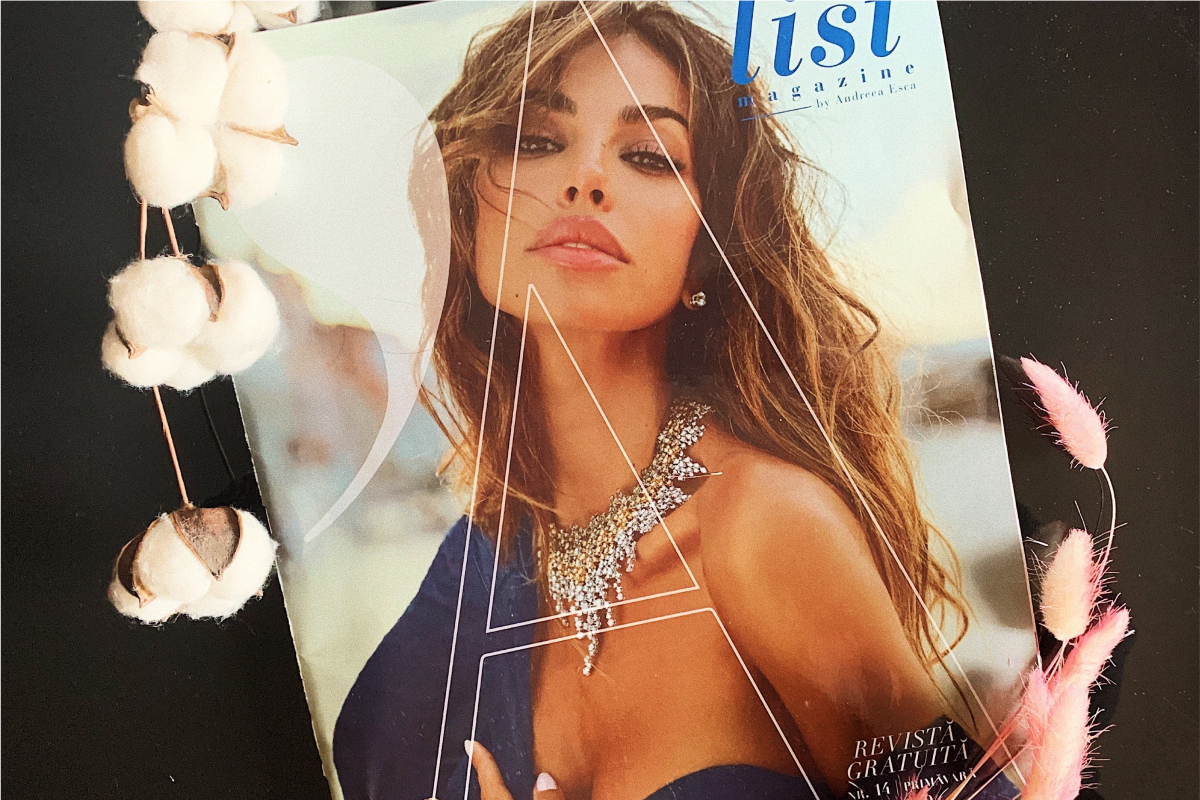 Din backstage…. 
… fiți gata să citiți un interviu incitant cu Mădălina Ghenea, protagonista shootingului de copertă A List Magazine nr. 14, să fiți transportați într-o lume plină de nuanțe de albastru cu ținutele imaginate de 12 designeri români, să dansați & cântați alături de vedeta pop Alina Eremia și să vă inspirați pentru un make-up blue, ca în creațiile talentalului make-up artist Alex Abagiu. Avem și alte surprize… albastre pentru voi: o călătorie în zona celor mai frumoase lacuri din Europa, un articol excelent despre miturile & știința din spatele pilulei albastre, machiaje și trenduri cu tușe de cer sau acvamarin, sporturi acvatice, shoppinguri de fashion & beauty… albastre.
Nu uitați: revista este GRATUITĂ și poate fi găsită în…
BUCUREȘTI
• restaurantele / cafenelele din București: Ana Baking Co., Arc Bakery, Animaletto, Ad Hoc, Arome, Aperto, Alef Espresso Bar, Bob Coffee Lab, BONE, Ceainăria Infinitea, Camera din Față, Cărți Dulciuri și Flori, Chef's Experience, CAJU by Joseph Hadad, Dianei 4, Dialogue, E3 Floreasca, Ethos House, Fior di Latte, Four Season, Gargantua Kiseleff, Gargantua Pantagruel, Gargantua Icoanei, Grano, Gastro Lab restaurant, Il Villagio, Il Locale, Jicky, KAIAMO restaurant, La Cantine de Nicolai, La Mahala, La Finca Alioli, Maize, restaurant MELT Băneasa Shopping City, NOUA, Nicolai, Nido Kitchen & Wine, Nuba Cafe Dorobanți, Poesia, Pio Bistro, Parol, Rue du Pain, Starbucks America House, Starbucks Băneasa, Suento, Shift Pub,  Stradale, Sardin, Sweetology, Simbio, The Institute Cafe, Tartelicious Tart, The Urbanist, Yoshi, Zaitoone, Za Lokal, White Horse
• saloanele / clinicile din București: Tribute Salon by George Soare, Noblezza, Beauty District Nordului, Beauty District Stejarii, Beauty District Victoriei, salon Manifest, saloane Yvonne, salon Dare, saloanele Gett's (Mariott, Park Lake, Radisson Blu); saloanele Evidence (Băneasa, Feeria, Unirea), Salon Boudoir, The Bar, Bogdan Mirică Salon, Patio Studio Băneasa, Jovsky Studio, Centro Donna Spa, The Lash Lounge, Afrodita Spa, Still Art (Carrefour Orhideea), Patio Studio (Carrfour Feeria), Infrafit, Hair Wellness by Elizabeth, salon AcadOro, clinica Trident, Clinica Proestetica Monza, SkinClinic, clinica Elos, NBG Studio, Slim Art, AVRA Aesthetic Institute
• studiouri de Pilates / săli sport în București: Movement Studio, Attitude Pilates, World Class Le Club, World Class W Charles de Gaulle
• hoteluri București: Hilton, Hotel Epoque, Mariott Grand Hotel, Ramada, Crowne Plaza, Hotel Caro, Hotel Sheraton, Hotel Intercontinental
• magazine București: Malvensky Store, Stefanel, Furla, magazinele Nissa (Cluj-Napoza, Timișoara, Iași, Brașov, Constanța, Craiova, Pitești, București), showroom Parlor, Natural Paris, magazin Obsentum, Nespresso, magazinul Teilor Băneasa, magazin Pandora Promenada, Meli Melo Băneasa Shopping City, Monarh Concept, Rosa Mundi Perfumery (Agora Floreasca), Adina Buzatu (Băneasa Shopping City), Bitolia Gallery, magazinele CCC Shoes
• Stejarii Club, Stejarii Rezidențial, Regina Maria, Aeroportul Otopeni Business Lounge, Școala Ioanid, Autoklass Center, QREATOR, Mihai Eminescu Offices, Bucharest Corporate Center
Atelierele ILBAH – Cluj-Napoca, Ploiești și București
A LIST DESIGNERS Boutique, București Mall
Târgul Half is Free
CLUJ-NAPOCA
Restaurante / cafenele: Casa Boema, Baraca, Livada, Napoca 15, Zama, Nuka Bistro, Litchi, Charlie Pub, Eggcetera, 25th Downtown, Roots, Meron
Saloane: Thai, Salon Boudoir Studio, En Vogue, Nail Boutique, Gabriela Popescu Salon, Headline Studio Academy, Salon Vestige, salon Belle
Hoteluri Cluj: Platinia, UBA
Târgul Half is Free 
Puteți răsfoi online: NR 1 – A LIST MAGAZINE   / NR 2 ALIST MAGAZINE / NR 3 – A LIST MAGAZINE/ NR 4 – A LIST MAGAZINE  / NR 5 – A LIST MAGAZINE , NR6 A LIST MAGAZINE , NR 7 A LIST MAGAZINE NR.8 A LIST MAGAZINE, NR.9 ALIST MAGAZINE, NR. 10 A LIST MAGAZINE, NR. 11 A LIST MAGAZINE, Nr. 12 A LIST MAGAZINE. A LIST MAGAZINE NR. 13. 
Am strălucit! Da, da, la lansarea ediției de iarnă a revistei A List Magazine toată lumea a strălucit….