Am început mult așteptatele luni de iarnă cu ale lor Sărbători (de la Crăciun la Anul Nou sau chiar… Valentine's Day) cu o nouă ediție print a revistei A List Magazine. Una superhot, supersexy și… pe alocuri, un pic ireverențioasă. 🙂 O revistă care vă poate aduce zâmbetul pe buze și, de ce nu, un strop de sexiness în viața voastră.
NU UITAȚI: revista A List Magazine este gratuită și o puteți lua din zecile de locuri simpatice (de la cafenele, restaurante la saloane de înfrumusețare, clinici, săli de sport și multe altele) din București, Cluj-Napoca și Brașov – LISTA COMPLETĂ MAI JOS.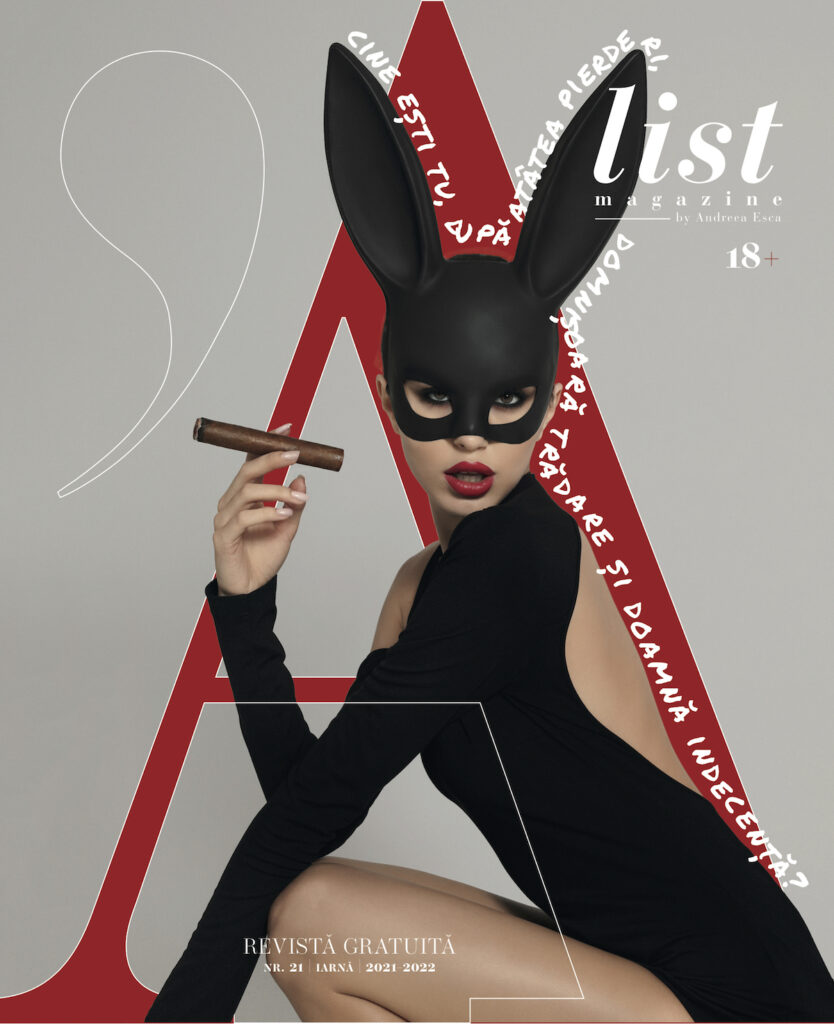 Dar, mai întâi, din sumar…
Începeți lectura cu o copertă și un pictorial incendiar, ale cărui fotografii sunt semnate @douglaslormand (stilist: Rovena Andrei), și un documentar extrem de captivant cu multe povești și statistici interesante despre industria sexului în România, semnat de Adriana Moscu. Continuați cu un articol despre educația sexuală în școlile din România, scris de Alina Burlacu, câteva destinații senzuale propuse de Bianca Sterie și trei interviuri ale Andreei Leța cu designerii de haine… sexy: Ludique, Murmur, MiDo. Plus: sugestii de conturi de Instagram cu șoapte de budoir (pentru care este responsabilă Roxana Popescu) și analiza psihologilor noștri, Gáspár György și Diana Lupu, despre pasiune și sexerciții.
Continuați cu o escapadă în lumea sport & health: un material cu și despre revelația Emma Răducanu, scris de Andrei Nourescu, propuneri de sport inedit de iarnă în viziunea Ralucări Leafu și o analiză asupra fenomenului de body shaming, făcută de Alexandra Bolba.
Interviurile acestui număr le aduc în prim plan pe 5 fete care fac stand-up în România și pe senzația de origine română a cinema-ului francez, Anamaria Vartolomei, într-un interviu semnat Alina Aliman (fotografii de Deea Buzdugan, special ajunsă la Paris). Plus: un flash quiz cu Delia (semnat Nicoleta Nicolae) și un interviu la dublu, condus de Amalia Enache și Corina Caragea (consemnat de Monica Cismaru).
Nu uitați să admirați fotografiile superbe, realizate de fotograful italian Nicola Casini și stilistul Ovidiu Buta în culisele Feeric Fashion Week. Dar și ținutele cool purtate de cei patru tineri protagoniști în exercițiul de stil marca Levi's (fotograf Lehel Kelemn și stilist Andreea Leța).
Avem, evident, sugestii de ținute hot, hot, hot, produse și proceduri de beauty care să te transforme într-o apariție. Dar și un articol despre averile făcute de vedete din liniile de cosmetice și povești despre bijuterii care transmit mesaje emoționante.
N-am uitat de casa lunii (de data aceasta din Praga), recomandată de Maria Marinescu, de sugestiile de carte, film, audiobookuri simpatice și restaurante bune din București și nici de sugestii pentru o cină de Crăciun cu un pairing de vin absolut senzațional.
Și, dacă vreți să știți de ce 50 is the new 50… citiți editorialul Andreei Esca de la final.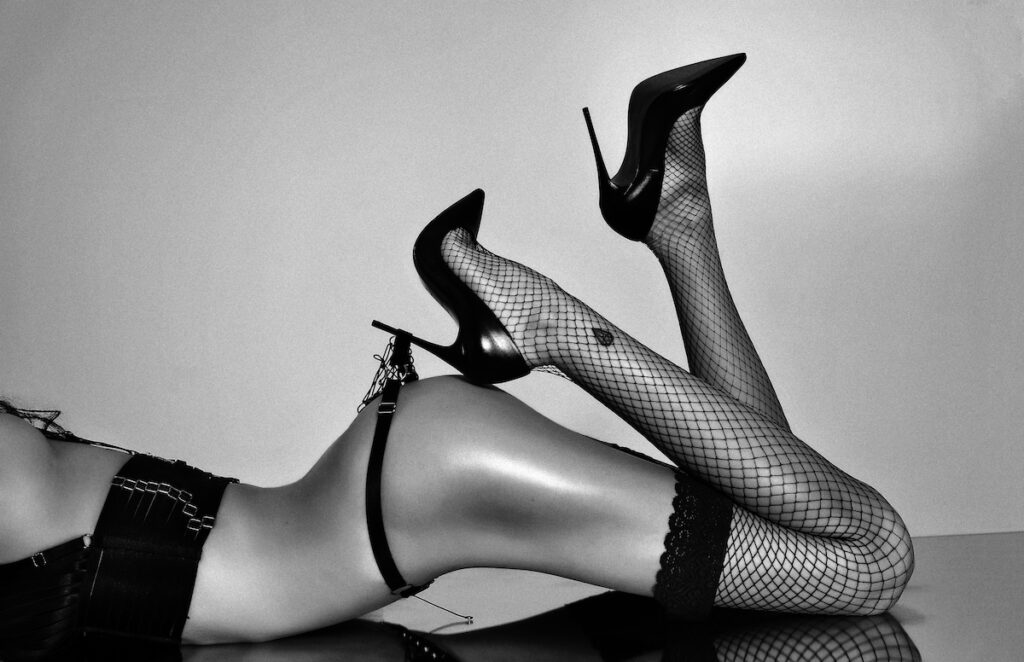 Unde se găsește revista A List Magazine?
BUCUREȘTI
* restaurantele / cafenelele din București: Aperto restaurant, Arome, adhoc, Alef Espresso Bar, AnaPan, Animaletto, Arc Bakery, BOB Coffee Lab, Baristo Place, BONE, Beans & Dots, Caju by Joseph Hadad, Camera din față, Cărți, Dulciuri și Flori, Ceainăria Infinitea, Da Beef, Dialogue (cocktail Bar), Dianei 4, E3 Floreasca, Ergo restaurant, Ethos House, restaurant Fico, Fior di Latte, Four Seasons, FORK, Gargantua Icoanei, Gargantua Kiseleff, Gargantua Pantagruel, Gastro Lab restaurant, Grano, Il Villagio, Il Locale, KAIAMO restaurant, La Finca Alioli, Le Bab, La Cantine de Nicolai, Mingle, La Mahala, NOUA, Nicolai, Nuba Cafe Dorobanți, Ou Bucharest, Pizzamania, Parol Bistro, Pio Bistro, Poesia, Rue du Pain, Sardin, Simbio, Starbucks America House, Shift Pub, Switch Eat, Tartelicious Tart, T Zero Coffee, Van Fruct, Urbanist, White Horse, Yoshi, Zaitoone, Za Lokal.
* saloanele din București: Afrodita Spa, Art Estetic, salon AcadOro, Beauty District Nordului, Beauty District Stejarii, Beauty District Victoriei, Bogdan Mirică Salon, Salon Boudoir, Centro Donna Spa, Colors Experience, salon Dare, saloanele Evidence (Băneasa, Feeria, Unirea), saloane Endorphin (Dorobanți & Floreasca), Flori Dinu Beauty Specialist, saloanele Gett's (Mariott, Park Lake, Radisson Blu); Hair Wellness by Elizabeth, Jovsky Studio, The Lash Lounge, Make-up Cafe, rețeaua saloane El Studio, Patio Studio Băneasa, Patio Studio (Carrefour Feeria), StilArt (Carrefour Orhideea), Studio 44, Ritual Nail Spa, Tribute Salon by George Soare, The Bar, saloane Yvonne, salon Melkior.
* clinicile din București: ALTO Studio, AVRA Aesthetic Institute, clinica Trident, Clinica Proestetica Monza, clinica Elos, Slim Art, clinica Noblezza, Clinica Leventer, Med Beauty Clinique, clinica Hebra dermatologie, Illuma Clinique, Clinica Eliade, Clinica Medicum, clinica Welborn, Skinclinic, Denttaglio Clinic, Arca Life Clinic, Clinica Dr. Cristina Bejan, DermaBeauty Clinique București, centrul Medical Pogany, Dr. Daniela Diveică, Natural Aesthetics, Best Skin, Clinica Dr. Sorin Nae, Dermaceutica, Clinica UltraEstetic, Cabinet dermatologie și estetică facială Dr. Catanas, Clinica Dr. Pascal Dameh, Project Beauty by Dr. Ruxandra Sinescu, Soma Clinic, Clinica Nuwe, Cabinet dermatologie – clinica Skinovate, Schwartz Medical Beauty, Clinica Statera by Dr. Flroin Juravle, Beauty Art Aestethics, Uptown Estethics, Clinica World Estetica, Be perfect by Dr. Bortolini, Derm-One Clinic, Skinmed Clinic, Dr. Delbani Aestethics, Zeedent Clinic, M Skin.
* studiouri de Pilates / săli sport în București: Movement Studio, Attitude Pilates, Shaya Pilates, World Class Le Club, World Class W Charles de Gaulle
* hoteluri București: JW Marriott Bucharest Grand Hotel, Crowne Plaza Bucharest, Athene Palace Hilton, Hotel CARO, Hotel Epoque, Intercontinental, Ramada, Sheraton
* magazine București: Malvensky Store, magazinul Furla (Băneasa Shopping City), Coccinelle (Promenada Mall), magazinele Nissa (Cluj-Napoca, Timișoara, Iași, Brașov, Constanța, Craiova, Pitești, București), magazine Obsentum, Nespresso, Rosa Mundi Perfumery (Agora Floreasca), magazin Adina Buzatu, magazin David & Thea, magazinele CCC, Nativia, showroom Parlor, magazinul Pandora (Promenada Mall), Tati Cool Shop, magazinele Marks & Spencer (Băneasa Shopping City, București Mall, Plaza România).
* librăriile Seneca Anticafe, Asteroidul B612
* Stejarii Club, Stejarii Rezidențial, Școala Ioanid, rețeaua Regina Maria, Aeroportul Otopeni Business Lounge, QREATOR, Autoklass Center, Mihai Eminescu Offices, Life Box, Juice It, The Institute
* A LIST DESIGNERS Boutique – București Mall Vitan
CLUJ-NAPOCA
Restaurante: Baracca, Zama, Napoca 15, Da Pino, Samsara Foodhouse.
Farmacia Remedium
Gabriela Popescu make-up Salon (str. Paris)
Showroom Adinish (str. Brașov 19)
Hoteluri Cluj: UBA Apart Hotel
BRAȘOV – Hotel Teleferic
Ana Hotels Sport & Bradul, Poiana Brașov
Puteți răsfoi online edițiile A LIST MAGAZINE : NR 1 – A LIST MAGAZINE / NR 2 ALIST MAGAZINE / NR 3 – A LIST MAGAZINE/ NR 4 – A LIST MAGAZINE / NR 5 – A LIST MAGAZINE , NR6 A LIST MAGAZINE , NR 7 A LIST MAGAZINE NR.8 A LIST MAGAZINE, NR.9 ALIST MAGAZINE, NR. 10 A LIST MAGAZINE, NR. 11 A LIST MAGAZINE, Nr. 12 A LIST MAGAZINE. A LIST MAGAZINE NR. 13. Nr.14 A LIST MAGAZINE, NR. 15 A LIST MAGAZINE.Numărul 16 A list Magazine. Nr. 17 A List Magzine, Nr. 18 A List Magazine, Nr. 19 A List Magazine.
A List Magazine a fost alături de Andreea Tudorache, Owner Beauty Connection și de Andra Pintican – fondatoarea…