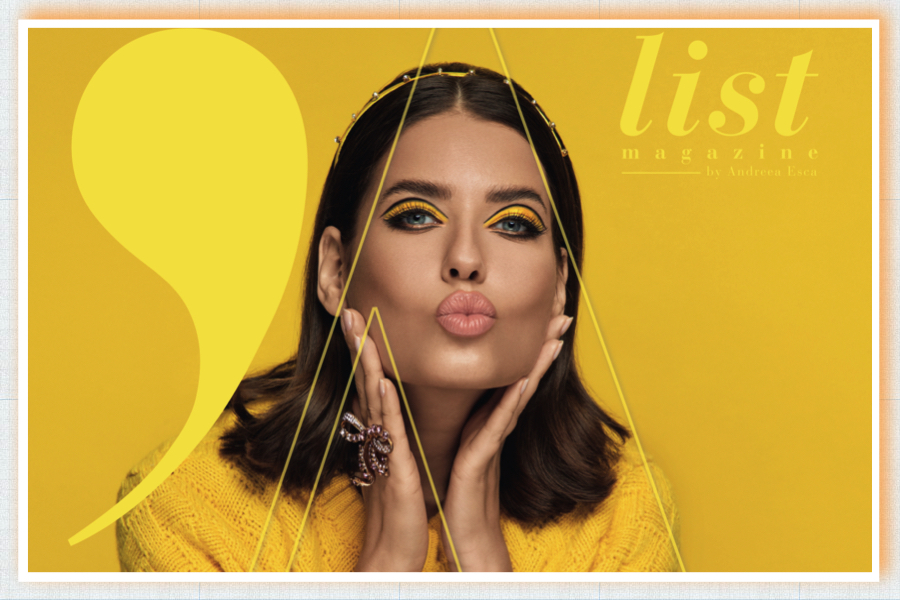 Sezonul acesta suntem… retro! Numărul 18 al revistei A List Magazine, primăvară 2021 este plin de surprize cu parfum de nostalgie.
Din sumar: un pictorial superb cu accente retro, care o are pe modeul Alice Peneacă în prim-plan, interviuri cu șase femei puternice, cu vârste de la 20 la 72 de ani, care vorbesc despre ce înseamnă frumusețea.
Apoi, nu ratați un shooting realizat într-un decor ce ne aduce aminte de casa părinților (sau a bunicilor) din perioada comunistă – căutați indiciile și poveștile cu milieuri, sifon, televizor cu purici și radio cu lămpi în fotografiile noastre. Și nu uitați să dezlipiți cartolina din revista, ca să vă aducă aminte mereu de prima petrecere din viața voastră. Chiar așa, cum a fost? 
Aflăm, desigur, cum era fitnessul pe vremea lui Jane Fonda, ce cărți putem citi să ne ostoiască dorul de călătorii în țări îndepărtate, cele mai cool noutăți în materie de fashion & beauty și o poveste a brandurilor românești de cosmetice.
Nu uitați: revista este GRATUITĂ și poate fi găsită în…
BUCUREȘTI
* restaurantele / cafenelele din București: Aperto restraurant, Arome, adhoc, Alef Espresso Bar, AnaPan, Animaletto, Arc Bakery, BOB Coffee Lab, BONE, Caju by Joseph Hadad, Camera din față, Cărți, Dulciuri și Flori, Ceainăria Infinitea, Chefs Experience, Da Beef,  Dialogue (cocktail Bar), Dianei 4, E3 Floreasca, Ergo restaurant, Ethos House, Fior di Latte, Four Seasons, Gargantua Icoanei, Gargantua Kiseleff, Gargantua Pantagruel, Gastro Lab restaurant, Grano, Il Villagio, Il Locale, KAIAMO restaurant, La Finca Alioli, Le Bab,  La Cantine de Nicolai, La Mahala, NOUA, Nicolai, Nuba Cafe Dorobanți, Ou Bucharest, Pizzamania, Parol Bistro, Pio Bistro, Poesia, MELT Băneasa Shopping City, Rue du Pain, Sardin, Simbio, Starbucks America House, Starbucks Băneasa, Shift Pub, Suento, Sweetology, Switch Eat, Tartelicious Tart, T Zero Coffee, Van Fruct, White Horse, Yoshi, Zaitoone, Za Lokal
* saloanele / clinicile din București: ALTO Studio, Afrodita Spa, Art Estetic, AVRA Aesthetic Institute, Beauty District Nordului, Beauty District Stejarii, Beauty District Victoriei, Bogdan Mirică Salon, Centro Donna Spa, Tribute Salon by George Soare, saloane Yvonne, salon Dare, saloanele Gett's (Mariott, Park Lake, Radisson Blu); saloanele Evidence (Băneasa, Feeria, Unirea), Salon Boudoir, The Bar, Patio Studio Băneasa, The Lash Lounge, Patio Studio (Carrefour Feeria), Hair Wellness by Elizabeth, salon AcadOro, clinica Trident, Clinica Proestetica Monza, SkinClinic, clinica Elos, Slim Art, Noblezza, Clinica Leventer, StilArt (Carrefour Orhideea), salon Endorphin (Dorobanți & Floreasca), Make-up Cafe, Med Beauty Clinique, Studio 44, Colors Experience, Ritual Nail Spa, rețeaua saloane El Studio, clinica Hebra dermatologie, Illuma Clinique, Jovsky Studio
* studiouri de Pilates / săli sport în București: Movement Studio, Attitude Pilates, Shaya Pilates, World Class Le Club, World Class W Charles de Gaulle
* hoteluri București: JW Marriott Bucharest Grand Hotel, Crowne Plaza, Hilton, CARO, Epoque, Intercontinental, Ramada, Sheraton
* magazine București: Malvensky Store, magazinul Stefanel, magazinul Furla (Băneasa Shopping City), Coccinelle (Promenada Mall), magazin YSL Băneasa Shopping City, magazin Armani Băneasa Shopping City, magazinele Nissa (Cluj-Napoca, Timișoara, Iași, Brașov, Constanța, Craiova, Pitești, București), Natural Paris, magazine Obsentum, Nespresso, magazinul Teilor Băneasa, Rosa Mundi Perfumery (Agora Floreasca), magazin Adina Buzatu, magazin David & Thea, Monarh Concept
* librăriile DIVERTA, Seneca Anticafe, Life Box, Juice It 
* Stejarii Club, Școala Ioanid, Stejarii Rezidențial, rețeaua Regina Maria, Aeroportul Otopeni Business Lounge, QREATOR, Autoklass Center, Mihai Eminescu Offices
* A LIST DESIGNERS Boutique – București Mall Vitan
CLUJ-NAPOCA
Regina Maria (str. Calea Dorobanților), Ofta Medical, Farmacia Remedium, Gabriela Popescu make-up (str. Paris)
Hoteluri Cluj: UBA Apart Hotel
BRAȘOV – Hotel Teleferic
Puteți răsfoi online edițiile A LIST MAGAZINE : NR 1 – A LIST MAGAZINE   / NR 2 ALIST MAGAZINE / NR 3 – A LIST MAGAZINE/ NR 4 – A LIST MAGAZINE  / NR 5 – A LIST MAGAZINE , NR6 A LIST MAGAZINE , NR 7 A LIST MAGAZINE NR.8 A LIST MAGAZINE, NR.9 ALIST MAGAZINE, NR. 10 A LIST MAGAZINE, NR. 11 A LIST MAGAZINE, Nr. 12 A LIST MAGAZINE. A LIST MAGAZINE NR. 13. Nr.14 A LIST MAGAZINE, NR. 15 A LIST MAGAZINE.Numărul 16 A list Magazine. 
După impresiile frumoase cu care am rămas din Ibiza, ne îndreptăm pașii către o altă destinație pe care…