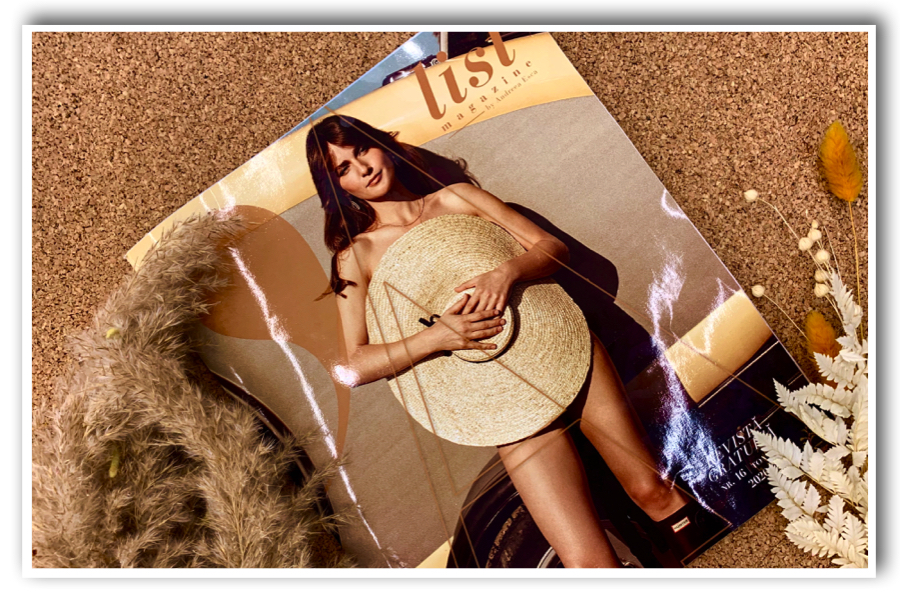 Din culise…
În acest număr o avem pe copertă pe talentata actriță Aida Economu, fotografiată de Oltin Dogaru. Ne punem la curent cu trendurile cool din fashion & beauty și ne facem lista de shopping a toamnei, citim despre cele mai noi metode de înfrumusețare fără bisturiu și despre produsele cu aer retro, revenite pe rafturile magazinelor de beauty. Plus: un pictorial hot, hot, hot realizat de Alexandru Abagiu și Marius Bărăgan. Citim interviuri cu femei care au lăsat deoparte munca în corporație pentru o afacere pe cont propriu, discutăm cu psihologii despre fetișuri și iubirea la distanță, dar aflăm și poveștile inspiraționale ale oamenilor care fac ceva pentru comunitate, pentru recuperarea trecutului și a patrimoniului românesc. Nu uităm nici de cele mai interesante lansări ale toamnei de cărți, filme & seriale, de sport și de inspirații de călătorie în cele mai puțin aglomerate locuri din lume.
Nu uitați: revista este GRATUITĂ și poate fi găsită în…
BUCUREȘTI
* restaurantele / cafenelele din București: Ana Baking Co., Arc Bakery, Animaletto, Ad Hoc, Arome, Aperto, Alef Espresso bar, Bob Coffee Lab, BONE, Baristro, Ceainăria Infinitea, Chef's Experience, CAJU by Joseph Hadad, Camera din Față, Dianei 4, Da Beef, Dialogue Cocktail Bar, E3 Floreasca, Ethos House, Ergo Restaurant, Fior di Latte, Four Season, Gargantua Kiseleff, Gargantua Icoanei, Gargantua Pantagruel, Grano, Gastro Lab restaurant, Il Villagio, Il Locale, KAIAMO restaurant, La Cantine de Nicolai, La Mahala, La Finca Alioli, Le Bab, NOUA, Nicolai, Nuba Cafe Dorobanți, Maize, MELT, Poesia, Pio Bistro, Parol Bistro, Rue du Pain, Starbucks America House, Replace, Starbucks Băneasa, Suento, Shift Pub, Sardin, Sweetology, Simbio, Switch Eat, Talent, Tartelicious Tart, The Bar, The Urbanist, T Zero Coffee, Van Fruct, Yoshi, White Horse, Zaitoone, Za Lokal
* saloanele / clinicile din București: Afrodita Spa, Beauty District Nordului, Beauty District Stejarii, Beauty District Victoriei, Tribute Salon by George Soare, Noblezza, salon Manifest, saloane Yvonne, salon Dare, saloanele Gett's (Mariott, Park Lake, Radisson Blu); saloanele Evidence (Băneasa, Feeria, Unirea), Salon Boudoir, The Bar, Bogdan Mirică Salon, Patio Studio Băneasa, Jovsky Studio, Centro Donna Spa, The Lash Lounge, Patio Studio (Carrfour Feeria), Hair Wellness by Elizabeth, salon AcadOro, clinica Trident, Clinica Proestetica Monza, SkinClinic, clinica Elos, NBG Studio, Slim Art, AVRA Aesthetic Institute, Noblezza, Clinica Leventer, Infrafit, salon Alina Cuzuban
* studiouri de Pilates / săli sport în București: Movement Studio, Attitude Pilates, World Class Le Club, World Class W Charles de Gaulle
* hoteluri București: Mariott Grand Hotel
* magazine București: magazin Adina Buzatu, Malvensky Store, Stefanel, magazinul Furla (Băneasa Shopping City), Coccinelle (Promenada Mall), magazin YSL Băneasa Shopping City, magazin Armani Băneasa Shopping City, magazine Marks & Spencer (Băneasa Shopping City & București Mall Vitan), magazinele Nissa (Cluj-Napoca, Timișoara, Iași, Brașov, Constanța, Craiova, Pitești, București), Natural Paris, magazine Obsentum, Nespresso, magazinul Teilor Băneasa, magazinul Pandora (Promenada Mall), Rosa Mundi Perfumery (Agora Floreasca),  magazinele CCC Shoes, Seneca AntiCafe, Asteroidul B612, librăriile DIVERTA, David & Thea,  magazinele LIDL, showroom Izabela Măndoiu
* Stejarii Club, Școala Ioanid, Stejarii Rezidențial, Regina Maria, Aeroportul Otopeni Business Lounge, Autoklass Center, QREATOR,  Juice It, Luxuria Residence
* A LIST DESIGNERS Boutique – București Mall Vitan
CLUJ-NAPOCA
Regina Maria, Farmec Cluj, magazinele LIDL
Hoteluri Cluj:  UBA
BRAȘOV – Hotel Teleferic
Puteți răsfoi online edițiile A LIST MAGAZINE : NR 1 – A LIST MAGAZINE   / NR 2 ALIST MAGAZINE / NR 3 – A LIST MAGAZINE/ NR 4 – A LIST MAGAZINE  / NR 5 – A LIST MAGAZINE , NR6 A LIST MAGAZINE , NR 7 A LIST MAGAZINE NR.8 A LIST MAGAZINE, NR.9 ALIST MAGAZINE, NR. 10 A LIST MAGAZINE, NR. 11 A LIST MAGAZINE, Nr. 12 A LIST MAGAZINE. A LIST MAGAZINE NR. 13. Nr.14 A LIST MAGAZINE, NR. 15 A LIST MAGAZINE.