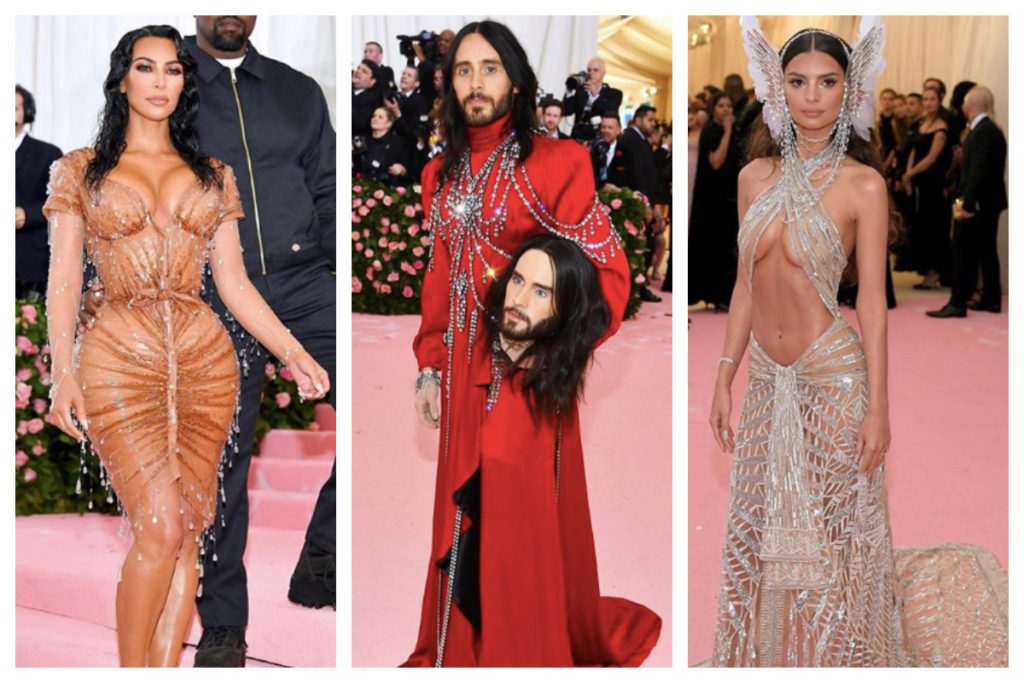 Pentru lumea modei, începutul de mai, înseamnă MET Gala, cel mai așteptat eveniment al anului, în ceea ce privește costumul. Anul acesta, din motivele bine cunoscute, celebrul eveniment a fost amânat, ceea ce ne-a determinat să facem o retrospectivă a câtorva dintre cele mai spectaculoase și iconice apariții. 
Tema celei mai așteptate zi de luni din fiecare an, 4 mai 2020, ar fi fost chiar About Time, așa că am dat timpul înapoi și ne-am oprit la câteva dintre cele mai discutate costumații prezente pe cel mai fotografiat și vânat covor roșu din lume. Pe lângă prezența celebrităților, despre care ne întrebăm de fiecare dată "Oare cum va arăta?", show-ul este asigurat de piesele vestimentare. 
View this post on Instagram
Lucrate în mii de ore, cu o METiculozitate legendară, concepute de cele mai mari nume ale modei, adaptate fiecărei personalitate care poartă ținuta și completată de cele mai ingenioase beauty looks sau chiar de mici performance-uri, dacă ne gândim, de exemplu, la Lady Gaga și la outfitul ei de anul trecut care s-a transformat de 4 ori în câțiva metri, aparițiile de la MET Gala sunt adevărate demonstrații de virtuozitate. Ca să nu mai spunem de celebra apariție a Rihannei, semnată Guo Pei, de la MET Gala 2015, China: Trhough the looking glass, rămasă în istoria costumului drept the omlette dress. Nici Zendaya nu s-a lăsat mai prejos în 2019, atunci când a devenit Cinderella cu ajutorul unei rochii-spectacol, extrem de complexă din punct de vedere tehnic, prevăzută cu fibră optică, al cărei efect a făcut-o să strălucească în adevăratul sens al cuvântului!
Iar aici, trebuie să vorbim puțin și despre talentul vedetelor despre a purta hainele și chiar de a le îmbrăca. Kim Kardashian purta la MET Gala 2019, Camp: Notes of Fashion o creație a casei Mugler, pentru care, simpla acțiune de a se îmbrăca… nu era deloc simplă, întrucât multitudinea de elemente și detalii, care dealtfel au și transformat-o într-una dintre cele mai spectaculoase apariții, grație efectului picăturilor despre care ai fi jurat că sunt cu adevărat de apă, dădeau bătăi de cap celor multe persoane adunate în jurul ei. 
View this post on Instagram
Însă una dintre temele preferate, atât ale designerilor, cât și ale stiliștilor, rămâne MET Gala  2018, Heavenly Bodies: Fashion and the Catholic Imagination, care a înregistrat cel mai mare număr de ținute spectaculoase din cadrul unui eveniment. Ne amintim, desigur, de frumoasele Blake Lively și de rochia cu o broderie impresionantă, Kim Kardashian și rochia aurie, un look pe cât de clean, pe atât de special, Katie Perry și aripile ei de arhanghel, Zendaya în chip de Ioana d'Arc sau de Rihanna în chip de papesă. Apoi a urmat celebra treime – Alessandro Michele, Lana del Rey și Jared Leto, despre care nu cred ca e nevoie decât de un singur cuvânt: Gucci! 
View this post on Instagram
View this post on Instagram
Iar a apropos de Jared Leto, nu e de trecut așa cu una, cu două peste aparițiile lui, pentru simplul fapt că în 2019, artistul a jucat literalmente la 2 capete. Gucci amandouă, of course. 
Așa că așteptăm cu un interes deosebit următoarea ediție, având în vedere că timpul, aliatul celor din ateliere, le permite să dezvolte mai ales la propriu câteva costume de neuitat. 
View this post on Instagram
View this post on Instagram
Foto: Instagram/@themetgalaofficial