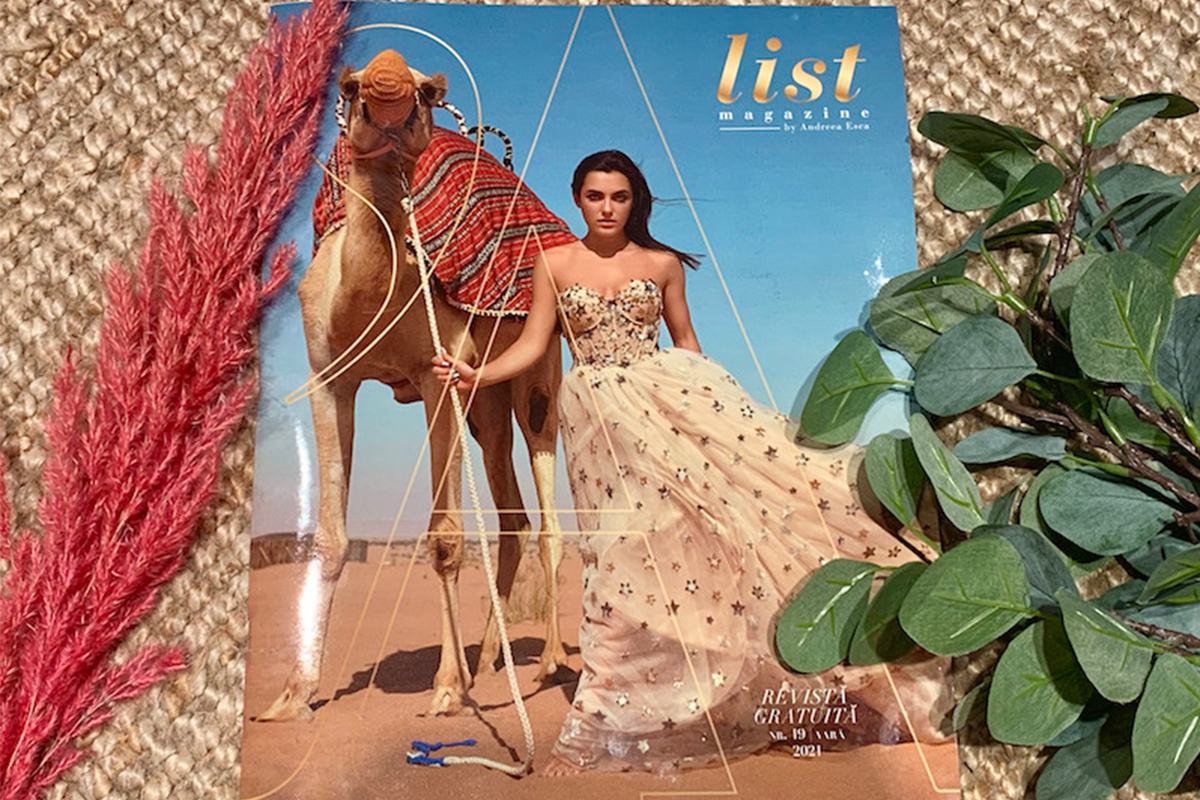 Vara aceasta ne gândim doar… la vacanță! Așa că numărul 19 al revistei A List Magazine, vară 2021 este unul care te îmbie la plaje însorite și vacanțe în locuri departe de aglomerație, în România.
Din sumar: un pictorial cu Alexia Eram, în Dubai. Supriză: Andreea Esca a trecut în spatele camerei de fotografiat și a realizat chiar coperta acestui număr!
Și, pentru că vară înseamnă și un corp bine lucrat, nu ratați pictorialul realizat într-o sală de box (unde posterele cu foștii campioni stau încă pe pereți). O să vă facă poftă de mișcare! Continuăm cu sugestii ale celor mai cool săli de Pilates din București, cu sugestii de exerciții California inspired, cu trucuri & sfaturi numai bune de pus în practică la plajă.  
Aflăm cum stăm cu somnul în această perioadă zbuciumată de pandemie, cum arată și cum trăiesc fetele pasionate de sporturi extreme, disecăm fenomenul NFT în arta digitală, ce cărți citim pe plajă, dar și cele mai cool noutăți în materie de fashion & beauty.
Nu uitați: revista este GRATUITĂ și poate fi găsită în…
BUCUREȘTI
* restaurantele / cafenelele din București: Aperto restraurant, Arome, adhoc, Alef Espresso Bar, AnaPan, Animaletto, Arc Bakery, BOB Coffee Lab, Baristo Place, BONE, Beans & Dots Caju by Joseph Hadad, Camera din față, Cărți, Dulciuri și Flori, Ceainăria Infinitea, Chefs Experience, Da Beef, Dialogue (cocktail Bar), Dianei 4, E3 Floreasca, Ergo restaurant, Ethos House, Fior di Latte, Four Seasons, FORK, Gargantua Icoanei, Gargantua Kiseleff, Gargantua Pantagruel, Gastro Lab restaurant, Grano, Il Villagio, Il Locale, KAIAMO restaurant, La Finca Alioli, Le Bab, La Cantine de Nicolai, La Mahala, NOUA, Nicolai, Nuba Cafe Dorobanți, Ou Bucharest, Pizzamania, Parol Bistro, Pio Bistro, Poesia, MELT Băneasa Shopping City, Rue du Pain, Sardin, Simbio, Starbucks America House, Starbucks Băneasa, Shift Pub, Stradale, Suento, Sweetology, Switch Eat, Tartelicious Tart, T Zero Coffee, Van Fruct, Urbanist, White Horse, Yoshi, Zaitoone, Za Lokal
* saloanele din București: Afrodita Spa, Art Estetic, salon AcadOro, Beauty District Nordului, Beauty District Stejarii, Beauty District Victoriei, Bogdan Mirică Salon, Salon Boudoir, Centro Donna Spa, salon Dare, saloanele Evidence (Băneasa, Feeria, Unirea), saloane Endorphin (Dorobanți & Floreasca), Flori Dinu Beauty Specialist, saloanele Gett's (Mariott, Park Lake, Radisson Blu); Hair Wellness by Elizabeth, Jovsky Studio, The Lash Lounge, Make-up Cafe, rețeaua saloane El Studio, Patio Studio Băneasa, Patio Studio (Carrefour Feeria), StilArt (Carrefour Orhideea), Studio 44, Colors Experience, Ritual Nail Spa, Tribute Salon by George Soare, The Bar, saloane Yvonne.
* clinicile din București: ALTO Studio,  AVRA Aesthetic Institute, clinica Trident, Clinica Proestetica Monza, clinica Elos, Slim Art, Noblezza, Clinica Leventer, Med Beauty Clinique, clinica Hebra dermatologie, Illuma Clinique, Clinica Eliade, clinica Medicum, clinica Welborn.
* studiouri de Pilates / săli sport în București: Movement Studio, Attitude Pilates, Shaya Pilates, World Class Le Club, World Class W Charles de Gaulle
* hoteluri București: JW Marriott Bucharest Grand Hotel, Crowne Plaza, Hilton, CARO, Epoque, Intercontinental, Ramada, Sheraton
* magazine București: Malvensky Store, magazinul Furla (Băneasa Shopping City), Coccinelle (Promenada Mall), magazin YSL Băneasa Shopping City, magazin Armani Băneasa Shopping City, magazinele Nissa (Cluj-Napoca, Timișoara, Iași, Brașov, Constanța, Craiova, Pitești, București), Natural Paris, magazine Obsentum, Nespresso, magazinul Teilor Băneasa, Rosa Mundi Perfumery (Agora Floreasca), magazin Adina Buzatu, magazin David & Thea, Monarh Concept, magazinele CCC, magazinul Marina Rinaldi (Băneasa Shopping City), Nativia, showroom Parlor, Tati Cool Shop, magazin GALT.
* librăriile DIVERTA, Seneca Anticafe, Asteroidul B612
* Stejarii Club, Stejarii Rezidențial, Școala Ioanid, rețeaua Regina Maria, Aeroportul Otopeni Business Lounge, QREATOR, Autoklass Center, Mihai Eminescu Offices, Nordis Travel, Life Box, Juice It, The Institute
* A LIST DESIGNERS Boutique – București Mall Vitan
CLUJ-NAPOCA
Regina Maria (str. Calea Dorobanților), Ofta Medical, Farmacia Remedium, Gabriela Popescu make-up (str. Paris)
Hoteluri Cluj: UBA Apart Hotel
BRAȘOV – Hotel Teleferic
Puteți răsfoi online edițiile A LIST MAGAZINE : NR 1 – A LIST MAGAZINE   / NR 2 ALIST MAGAZINE / NR 3 – A LIST MAGAZINE/ NR 4 – A LIST MAGAZINE  / NR 5 – A LIST MAGAZINE , NR6 A LIST MAGAZINE , NR 7 A LIST MAGAZINE NR.8 A LIST MAGAZINE, NR.9 ALIST MAGAZINE, NR. 10 A LIST MAGAZINE, NR. 11 A LIST MAGAZINE, Nr. 12 A LIST MAGAZINE. A LIST MAGAZINE NR. 13. Nr.14 A LIST MAGAZINE, NR. 15 A LIST MAGAZINE.Numărul 16 A list Magazine. 
A List Magazine a fost alături de Andreea Tudorache, Owner Beauty Connection și de Andra Pintican – fondatoarea…